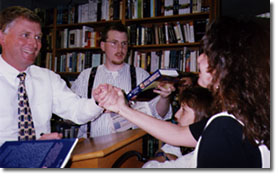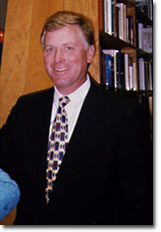 Dan Quayle had a book signing at the Border's Bookstore in PA, back in 1994. I had the opportunity to get a copy of his book signed, and, as the picture on the left shows, shake his hand. (yes - that's me). I was quite honored to meet Mr. Quayle, because I happen to like him. (so there!) After all, who started the whole "family values" craze? Dan Quayle - and while he was laughed at for his Murphy Brown comment, Liberals and Conservatives alike have now jumped on his "family values" idea. His ideas are quite good, and I suggest that people read his book, Standing Firm (which was on the Publishers Weekly Hardcover Nonfiction Bestseller List).

HA! For those who keep bringing up "potatoes," read my article: That Stupid Potato(e)

And for those who would comment on Dan Quayle's "stupid comments," I suggest you take a look at some stupid comments made by Bill Clinton as well as equally stupid comments by Al Gore.