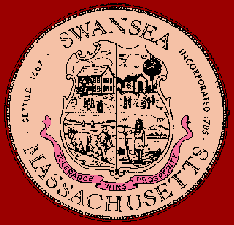 Pastor John Myles, Captain Thomas Willett and their neighbors petitioned the Court at Plymouth to establish a town: Swansea. The town was founded on October 30, 1667 and incorporated in 1785. It was the fourth town founded in Bristol County; originally, Swansea extended from the boundaries of Taunton and Rehoboth to Mount Hope Bay. The town was reduced in size three times. First by the incorporation of Barrington as its own town in 1717. Then, it was reduced again by the annexation of Warren in 1747; and the town's borders were changed for the final time in 1790 with the creation of Somerset.

Swansea's First Inhabitants: The Wampanoags

Swansea, originally called Sowams by the Wampanoags, was the main capital of the Wampanoag tribe. The Wampanoags lived in peace before their first contact with the Plymouth colony; they were unaware of the diseases that the Europeans had brought with them which would kill many of their own people. They hunted and fished the area, giving and taking from nature. This philosophy of working with the land and not possessing it was one of their major obstacles in understanding Europeans.

Their homes were called Wetus. These homes were just large enough to accommodate their needs and constructed of saplings stuck at one end in the ground in a circular or oval form. These saplings were bent over to form the rounded roof and tied at the top to hold it in place. However, they created an opening at the apex to allow smoke to escape. Furs and soft branches decorated the interior, surrounding the center of the home which was reserved for cooking.

These Indians dressed according to their position in the tribe, and the current climate. For example during the warmer months, Wampanoag women were bare to the waist. Such styles would be later criticized by Europeans as "savage." In time, a European worldview would judge these people and force them from Sowams believing that it was "divine providence" But in these early meetings before thousands of ships would forever change the Indians, there was mutual understanding. The Wampanoags were first visited in Sowams by two Englishmen: Edward Winslow and Stephen Hopkins. They had been sent to repay and honor Massasoit, their chief. Massasoit ruled over the greater part of Massachusetts. He formed the treaty with the Pilgrims in 1621 in Plymouth. The meeting between Massasoit and the first two known Englishmen known to this area was amicable. Edward Winslow again returned to the area in 1623 when he heard that Massasoit was near death. Winslow and his men braved the woods and terrain and hurriedly approached Swansea. Upon arriving, Winslow waved off the Indian Witch doctors and gave him some medicine he had in his pack. Massasoit's eyesight and overall health improved. This act of friendship helped forge a trust between the whites and Indians which lasted for many years. However, this peace would come to an abrupt end when Massasoit's second son, Philip, succeeded his brother as chief and in 1675 led his warriors against the settlers in what is known as King Philip's War.

New Swansea's grant for township - petitioned at the court of New Plymouth, 1667:

"Whereas, Liberty hath been formerly granted by the Court of Jurisdiction of New Plymouth, unto Captain Thomas Willett and his neighbors of Wannamoisett, to become a township there if they should see good, and that lately the said Capt. Willett and Mr. Myles, and others, their neighbors, have requested of the Court that they may be a township there or near thereabout, and likewise to have granted unto them such parcels of land as might be accommodate thereunto not disposed of to other Townships; this Court have granted unto them all such lands that lyeth between the salt water Bay and coming up Taunton River (viz.), all the Land between the salt water and river and the bounds of Taunton and Rehoboth not prejudicing any man's particular Interest, and for-asmuch as Rehoboth hath meadow lands within the line of Wannamoisett and Wannamoisett hath lands within the line of Rehoboth, lying near the south line of Rehoboth--if the two townships cannot agree about them among themselves, the Court reserves it within their power to determine any such controversy. Oct. 30, 1667.

"1667, March. The Court hath appointed Captain Willett, Mr Paine, Sen'r., Mr. Brown, John Allen, and John Butterworth, to have the trust of admittance of Town Inhabitants into the said town, and to have the disposal of the Land therein, and ordering of other affairs of said Town. The Court doe Allow and Approve that the Township Granted unto Capt. Willett and others, his neighbors, at Wannamoisett and parts adjacent, shall henceforth be called and known by the name of Swansea.

"The Enterys above are a Copy taken out of the Court Records at Plymouth, Nath'l Clark. And above Entrys hereof by William Ingraham, Town Clerk.

"Whereas, Capt. Thomas Willett, shortly after the grant of this township made three following proposalls unto those who were with him, by the Court of Plymouth, empowered for the admission of inhabitants, and of granting lots, viz:

1."That no erroneous person be admitted into the township as an inhabitant or sojourner. 2."That no man of any evill behaviour or contentious person to be admitted. 3."That none may be admitted that may become a charge to the place, following address unto the said Capt. Willett and his associates, the Trustees aforesaid.

"We being engaged with you (according to our capacity) in the carrying on of a township according to the grant given us by the honored Court, and desiring to lay such a foundation thereof as may effectually tend to God's glory, our future peace and comfort, and the real benefit of such as shall hereafter join with us herein, as also to prevent all future jealousies and causes of dissatisfaction or disturbance in so good a work, doe in relation to the three proposalls made by our much honored Capt. Willett, humbly present to your serious consideration, before we proceed further therein, that the said proposalls may be consented to and subscribed by all and every townsman under the following explications:

1."That the first proposal relating to the non admission of erroneous persons may be only understood the explication following (viz.), of such as hold damnable heresies inconsistent with the faith of the Gospel as to deny the Trinity or any person therein, (1) the Deity or sinless Humanity of Christ, or the union of both natures in him, or his full satisfaction to the Divine Justice by his active and passive obedience for all his elect, or his resurrection, or ascension to heaven, intercession, or his second personable coming to Judgment, or resurrection of the dead, or to maintain any merit of work, consubstantition, transubstantiation, giving Divine adoration to any creature or any other anti-Christian doctrine, thereby directly opposing the priestly, prophetically or kingly office of Christ, or any part thereof; or secondly such as hold such opinions as are inconsistent with the well-being of the place, as to deny the magistrates' power to punish evill-doers as well as to punish those that do well: or to deny the first day of the week to be observed by Divine institution as the Lord's day or Christian sabbath, or to deny the giving of honor to whom honor is due or to offer those civil respects that are usually performed according to the laudable custom of our nation, each to other, as bowing the knee or body, etc., or else to deny the office, use, or authority of the ministry or comfortable maintenance to be due to them from such as partake of their teaching, or to speak reproachfully of any of the churches of Christ in this country, or of any such other churches as are of the same common faith with us and them.

2."That the second proposal, That no man of any evill behaviour, or contentious persons be admitted.

"We desire that it be also understood and Declared that this is not understood of any holding any opinion different from others in any disputable pt. Yet in controversy among the Godly Learned, the beleefe thereof not essentially necessary to salvation, such pado-baptism, anti-pado-baptism, church discipline or the like. But that the minister or ministers of the Town may take their liberty to baptise Infants or grown persons as the Lord shall persuade their consciences, and so also the Inhabitants of the town to take their liberty to bring their children to baptism or forbear. That the second proposall relating to nonereception of any of evill behaviour, such as contentious person, etc., may be only understood of those truly so called, and not of those who are different in judgment in the particulars last-mentioned and may be therefore counted contentious by some, though they are in all fundamentalls of faith orthodox in **** and excepting common Infirmities in conversation.

"That the proposall Relating to the non-admission of such as may be a charge to the Town be only understood so as that it may not hinder a godly man from coming among us, whilst there is accommodation that satisfy him, if some Responsible Townsman will be bound to see the town harmless.

"These humble tenders of our desires we hope you will without offence receive, excusing us therein, considering that God's glory, the future peace and well-being, not only of us and our posterity who shall settle here, but also of those several good and peaceable-minded men, whom you already know are liked, though with very inconsiderable outward accommodation to come among us are very much concerned therein. Our humble prayers both for ourselves and you is that God would be pleased to cause us to aim more and more at his glory and less to our earthly concernment that so we may improve the favors that hath been handed down to us by our honoured missing fathers to the advancement of the glory of God, the interest of our Lord Jesus Christ, and to the common benefit both of the Town and Colony, therein he hath providentially disposed of us to serve our generation, your brethren to serve you in Christ.

"Signed in behalf and in the name of the church meeting in Swansea by "John Myles, Pastor [and] "John Butterworth.

"The foregoing proposalls being according to the desire of the church aforesaid, fully and absolutely condescended to concluded and agreed upon by and between said Captain Willett, al his associates aforesaid and the church under the reservation and explications above written and every of them, it was sometime after propounded at a meeting of sd town, lawfully agreed on the two and twentieth day of the twelfth month, 1669, that the said agreement might be by the whole town ratified and confirmed and settled as the foundation order, to which all that then were or afterward should be admitted inhabitants to receive lands from the town should manifest their assent by subscription thereunto, whereupon the following order (the said Capt. Willett, al his associates aforesaid being present) was freely passed by the whole town nemine contradicente.

"At a town meeting lawfully warned, on the two and twentieth day of the twelfth month, commonly called February, in the year of our Lord 1669 it is ordered that all persons that are or shall be admitted inhabitants within this town, shall subscribe to the three proposalls above written to the several conditions and explanations therein expressed, before any lot of land be confirmed to them or any of them.

"We, those names are hereunder written, do fully, upon our admission to be inhabitants of this town of Swansea, assent to the above written agreement, made between the church now meeting here at Swansea and Capt. Thomas Willett and his associates, as the sd. agreement is specified and declared in the three proposalls above written, with the severall conditions and explanations thereof concerning the present and future settlement of this town. In witness whereof we have hereunto subscribed."

(Signed by fifty-five persons.)

First Signers Admitted to the Town: Thomas Willett, John Myles, John Allen, James Brown, Nicholas Tanner, Hugh Cole, Benjamin Alby, John Browne, Samuel Wheaton, Thomas Barnes, Thos. Estabrooke, Richard Sharpe, Wm. Ingraham, Thos. Manning, Wm. Cahoone, George Aldrich, Nathan'l Lewis, John Thurber, Jona Bosworth, Joseph Lewis, Wm. Hayward, Jno. Thurber, 2d, Gerard Ingraham, Zach. Eddy, Hezekiah, Luther, John Paddock, Samuel Luther, Obadiah Brown, Senr. Caleb Eddy, John Myles, Jr. Thomas Lewis, Joseph Carpenter, Robert Jones Eldad Kingsley, John Martin, John Cole, Joseph Wheaton, Nathan'l Paine, Stephen Brae, Gideon Allen, John Dickse, Wm. Bartram, Joseph Kent, Sam'l Woodbury, Nehemiah Allen, Sampson Mason, Job Winslow, Obadiah Bowen, Jr. Richard Burgess, Jno. Butterworth John West, Thos. Elliott, Timothy Brooks, Nathan'l Toogood, Jere. Child

Captain Thomas Willett

Capt. Willett was one of Swansea's most prominent citizens. He was a Puritan who came to Plymouth from Leyden, Holland, to make his fortune. Here he worked as a trader, shipper, real estate operator, and politician. He was also successor of Miles Standish in military command, but he was well known in the New World as an arbitrator. He was well liked by colonists, Indians, the English, and Dutch. His savvy, astute personality helped him secure the position of New York's first mayor. He is important to Swansea's history because he and John Myles petitioned Plymouth to form the town of Swansea. He arrived in this area as early as 1659 or 1660 and remained one of Swansea's foremost citizens until his death in 1674. He died one year before King Philip's attack. Capt. Willett is buried at the head of Bullock's cove in East Providence.

John Myles

John Myles and Captain Thomas Willett are Swansea's founding fathers. John Myles was a preacher in Swansea Wales. He left Wales as age 40, escaping Charles II's Act of Uniformity which restricted religious beliefs and drove 2,000 independent clergymen out of their small churches. One of these clergymen was Myles; he was a Baptist minister and at that time it was regarded as a fanatic offshoot, even by the Puritans who first fled to the New World to escape religious prosecution. Myles fled across the ocean and settled south of Rehoboth and built a meeting house. Old settlers joined the newcomers and agreed to petition for a town. Myles and his followers pushed for the name Swansea, honoring the original Wales name and keeping the tradition of calling new settlements after established European names. However, the document naming the town from Plymouth misspelled the town name: Swanzey. This caused minor confusion on the correct spelling for nearly 300 years.

Yet, the tolerance of Myles in forming the community of religious freedom helped frame the town motto: "Tolerance Wins Prosperity." Not only was he an instrumental as a founder, but also as an educator. He was Swansea's first teacher. He roamed from home to home, instructing youths. Six years later, the town set up a school and Myles was hired on the spot and paid 40 pounds per year.

King Philip's War

King Philip's War (1675-76) was the last Native American resistance to the whites in New England. Metacom, a Wampanoag chief also called King Philip, Massasoit's second son, led an alliance of tribes in a fierce attack on New England towns. Swansea was the first town where blood was shed. King Philip at first had preserved the peace, honoring his father's wishes and the treaty sighed in Plymouth in 1621. But the encroachment of colonists on Indian lands continued, expanding into some of their prime hunting and fishing territories. In addition, when Swansea became a town, Capt. Willett was told that purchasing lands in Swansea was permitted as long as "so as he do not too much straiten the Indians." But the land sale had locked the Indians into Mount Hope peninsula, so Swansea became their only route out. But on Sunday June 20th, 1675, the tension between the two groups came to a bloody battle for land. Some of Philip's men raided Swansea, entering houses, helping themselves to food, cattle, etc. Most of the town was at church. However, William Salisbury was home and shot one warrior at Kickemuit. Then, the townspeople spread out to the three garrison houses in town.

The first citizens were killed on Gardner's Neck Road, near one of the garrisons: six were killed. By the 23rd another man had been shot and his wife and child scalped. By this time, half of the town was a smoky ruin, as great fires lit up the sky. By the 28th help arrived and two companies of foot soldiers and one company of cavalrymen from Boston had joined the Plymouth forces already assembled at the garrison house of Pastor Myles. Raids on Swansea and nearby towns continued throughout the remainder of 1675 and the first half of 1676 until King Philip was killed. With him, the beginning of the end of the Indian nation was at hand. The colonists then drove most of the Native Americans from New England.

King Philip explains what led to the uprising:
The English who came first to this country were but an handful of people, forlorn, poor and distressed. My father was then sachem [chief]. He relieved their distresses in the most kind and hospitable manner. He gave them land to build and plant upon. He did all in his power to serve them. Others of their country men came and joined them. Their numbers rapidly increased. My father's counselors became uneasy and alarmed lest, as they were possessed of firearms, which was not the case of the Indians, they should finally undertake to give law to the Indians, and take from them their country. They therefore advised him to destroy them before they should become too strong, and it should be too late. My father was also the father of the English. He represented to his counselors and warriors that the English knew many sciences which the Indians did not; that they improved and cultivated the earth, and raised cattle and fruits, and that there was sufficient room n the country for both the English and the Indians. His advise prevailed. It was concluded to give victuals to the English. They flourished and increased. Experience taught that the advice of my father's counselors was right. By various means they got possessed of a great part of his territory. But he still remained their friend until he died. My elder brother became sachem. They pretended to suspect him of evil designs against them. He was seized and confined, and thereby thrown into sickness and died. Soon after I became sachem they disarmed all my people. They tried my people by their own laws and assessed damages against them which they could not pay. Their land was taken.

Sometimes the cattle of the English would come into the cornfields of my people, for they did not make fences like the English. I must then be seized and confined till I sold another tract of my country for satisfaction of all damages and costs. But a small part of the dominion of my ancestors remains. I am determined not to live till I have no country.


---
Sources for the History of Swansea pages:
Nacool, Robert. The Swansea StageCoach. Ed. Swansea: Historical Society, 1976.
Swansea. Annual Report. Swansea 1994 Annual Report. Lincoln Press, 1994.
Material taken from UMASS interactive course.